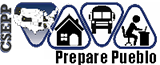 Prepare Pueblo
Pueblo, Colorado CSEPP website


Prepare KY
Kentucky CSEPP website
The
Chemical Stockpile Emergency Preparedness Program (CSEPP)
is a partnership between FEMA and the U.S. Department of the Army that provides emergency preparedness assistance and resources to communities surrounding the Army's chemical warfare agent stockpiles.
TRENDING TOPICS


A National campaign designed to educate and empower the public to stay informed of emergencies and their responses; to make a family emergency plan and build an emergency supply kit; and to get involved in community preparedness for emergencies.
Ready.gov
.

The Community Lifelines Implementation Toolkit provides whole community partners the information and resources to understand lifelines, coordinate with entities using lifelines, and serve as basic guidance for how to implement the lifeline construct during incident response. They can be used individually or printed into a binder as an all-inclusive resource.
Community Lifelines Implementation Toolkit
.